In Bookstores and
at Amazon.com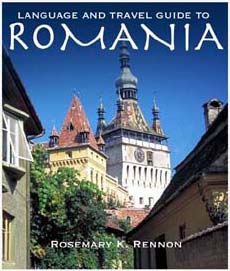 Learn more about Romania's geography, history, economy and government, get the new Language and Travel Guide to Romania
published by
Hippocrene Books.


Another great source is
www.romania-europe.tripod.com
The Country
Romania is a beautiful, captivating country with diverse regions, cultures, architecture and terrain.
Its natural landscape ranges from the forested Carpathian mountains, lush farmland and green rolling hills, to sandy beaches along the Black Sea. Located in eastern Europe, Romania shares borders with Hungary to the west, Ukraine and Republic of Moldova to the north and northeast, and Serbia and Bulgaria to the south; the Black Sea forms its 152 mile southeastern coastline. It is a mid-sized country of 23 million people, covering 91,500 sq. miles – about the same size as the state of Oregon. The horseshoe-shaped Carpathian mountain chain curves through its center, while the Danube River runs along the country's southern boundary, ending in a delta and wildlife preserve at the Black Sea.

The countryside is dotted with historic castles, medieval buildings, ancient monasteries, and quaint peasant villages where local folk still live much as they did 100 years ago, driving their horse carts to the fields and markets. Many cities retain their historic architecture, with centuries-old buildings still serving as civic offices, shops and homes surrounding a gardened town square. The southern Black Sea coastline, by contrast, is lined with modern beach resorts.

Provinces of Romania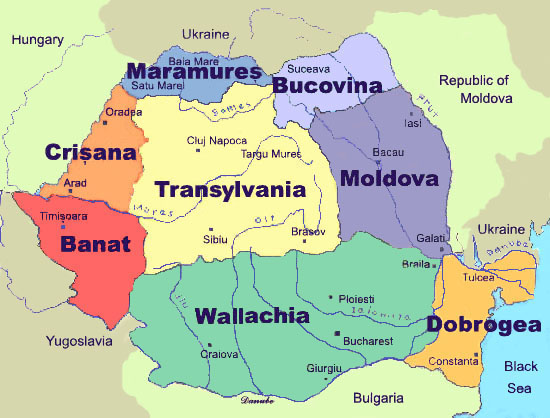 History
Romania was first inhabited by the Dacians, warriors who were conquered by the Romans in the first century A.D. Their occupation lasted 165 years, and the Latin language developed into the Romanian language. The feudal states of Wallachia and Moldavia were created in the 13th and 14th centuries.

A third Romanian region, Transylvania, was occupied successively by the Ottoman and Austro-Hungarian empires. Moldavia and Wallachia united in the 19th century to become the independent Romanian kingdom. Union with Transylvania took place in 1918, following World War I. Romania became a Communist state following World War II. Their brutal Communist rule finally ended with the December 1989 revolution.

Romania now has a constitutional republic form of government with a president, prime minister and multi-party parliament. It attained membership in the European Union in 2007.




Return to top


Romanian Flag

Romanian National Seal


RoNTO
Romanian National
Tourist Office
New York
www.romaniatoursim.com