In Bookstores and
at Amazon.com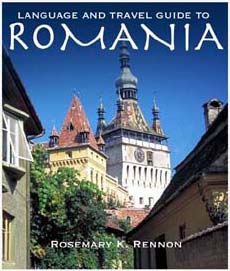 For more details about Constanta and other ancient cities, plus each of the Black Sea resort towns, beaches, hotels, spas, activities and nightlife,
get the new
Language and Travel Guide to Romania
published by
Hippocrene Books.


ad-link

The BLACK SEA COAST
Romania's Black Sea coastline in Dobruja province stretches over 152 miles (245 km.) from the Danube Delta to Bulgaria. The ancient port city of Constanta and numerous modern beach resorts line the southern seacoast. Ancient Greeks established the cities of Histria, Tomis (now Constanta) and Callatis (now Mangalia). Remains of their civilization are visible throughout the region.

Constanta Map
Settled by 6th century B.C. Greek merchants as Tomis, Constanta is a thriving seaport and a cultural and economic center in Romania. Its old section is the focal point of Black Sea coast tourism. Some of its historical sights include:

Parc Victoriei, with the ruins of Tomis and the Theatre.

The Museum of Art and the Museum of Popular Art.

Piata Ovidiu, dominated by a statue of exiled Latin poet Ovid.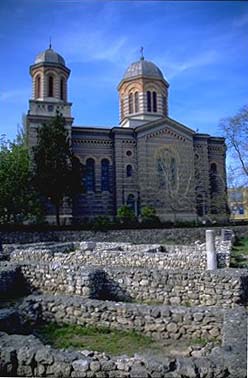 The Archaeology Museum, including Roman statues that survived the Avars' invasion; the Glykon serpent, and statues of Fortuna and Pontos, divine protectors of Tomis; and a hall devoted to Ovid (43 B.C.-A.D.18).
The gigantic Roman Edifice with Mosaic Inlay, a Roman mosaic floor from the 6th century.
Mahmoud II mosque with its 164 ft. (50 m.) high minaret.
A 13th century Genovese lighthouse by the yacht harbor.
The grand Casino, built in 1904, at water's edge.
The Aquarium displaying marine life of the Black Sea
Ruins of the Roman baths, beside the Orthodox Cathedral.
The Naval History Museum.
The Planetarium and Delfinariu (Dolphinarium).
Strada Stefan cel Mare in the modern section of the city, has stores, restaurants and theatres.
Return to top
Black Sea Resorts Map
The Black Sea beach resorts stretch from just north of Constanta, down to the Bulgarian border.
Some resorts have year round health spas specializing in therapeutic water, massage and mud cures.
Mamaia is the largest resort on the coast with a 5 mile long (8 km.) beach. It has diverse recreational activities and sports facilities, and numerous restaurants and night spots. There is also the freshwater Lake Siutghiol where you can sail.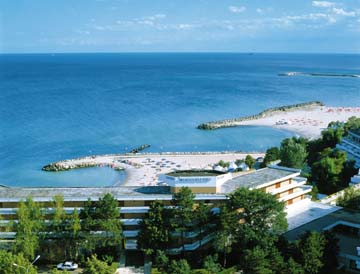 Eforie Nord, is a spa resort due to its salty therapeutic Techirghiol lake. In summer, the resort offers aquatic sports, tennis, and volleyball facilities, as well as traditional Romanian restaurants, taverns, fisheries, ale houses and coffee houses.
Costinesti has sports centers for tennis, basketball, volleyball, aquatic sports and scuba diving. It holds summer concerts and festivals, and is a favorite of young people.
Neptun & Olymp, are twin resorts between the sea and Comorova forest. Olymp is on the sea wall, while Neptun is set back about 200 meters, with a lake.
Jupiter, Cap Aurora, Venus & Saturn are farther south and less expensive, with sport grounds and a horseback riding center nearby.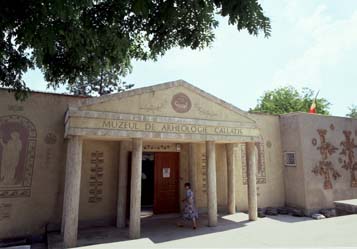 Mangalia, the oldest and most southern town on Romania's Black Sea coast, was settled 2,500 years ago by Greek mariners who called it Callatis. Architectural remains of the later Roman 1st century A.D. civilization are in its Archaeological Museum, built into the ancient fortress wall. It is also a popular spa town.
&nbsp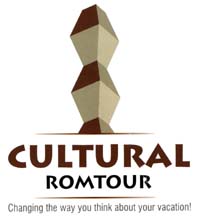 www.CulturalRomtour.com


ad-link